Local Attractions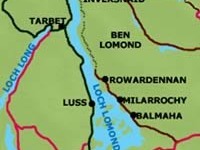 Loch Lomond & Trossachs National Park
The National Park boasts some of the most stunning scenery in the world from the breathtaking mountains and glens of the Trossachs to the vast tranquil beauty of Loch Lomond, mainland UK's largest body of water. There's always more to explore here and activities to suit everyone, all of which is only enhanced by having Scotland's first National Park as your backdrop.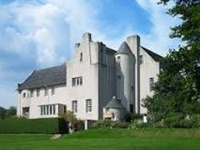 Hill House
Hill House in Helensburgh, Scotland is one of Charles Rennie Mackintosh's most famous works, probably second only to Glasgow School of Art. It was designed and built for the publisher Walter Blackie in 1902 – 1904.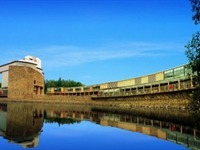 Loch Lomond Shores
Loch Lomond Shores is Scotland's most spectacular visitor destination, combining the beautiful environment with an outstanding mixture of leisure and shopping experiences overlooking the majesty of Loch Lomond at Balloch. The site is open all year round with access to enjoy the stunning scenery all day - every day! The Buildings are open daily from 10am.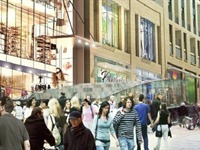 Glasgow Shopping
The biggest brands and major retailers can be found in Glasgow's Style Mile - the square in the very centre of Glasgow which houses an extraordinary concentration of shops. There's a great selection of outlets in Glasgow's Style Mile with malls, independent boutiques, designer stores, and one off-speciality shops including: Buchanan Galleries, Buchanan Quarter, St. Enoch Centre, Ingram Street, House of Fraser, Princes Square and more.
The centre of Glasgow is only some 40 minutes drive or train journey from Loch Lomond.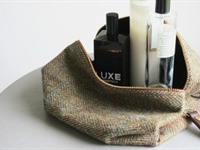 Mansefield Studios
Mansefield Studios is a pottery studio and craft gallery showcasing superb quality ceramics, jewellery, photography, paintings, textiles and other traditional crafts.

Found in the heart of the Loch Lomond and the Trossachs National Park, overlooking Loch Long and the Arrochar Alps, Mansefield Studios is a few minutes drive from Loch Lomond.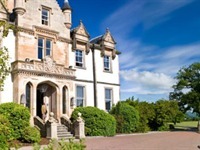 Cameron House Restaurants
Cameron Grill
There's a sizzle and a crackle in the air from the open fire and the steaks brought to neighbouring tables. In the distance the open plan theatre kitchen buzzes furiously with excitement and the occasional eruption of flame and steam from the grill.
The Boathouse
Just a stone's throw away from the main hotel by the water's edge, you enter the New England style Boat House restaurant. Think Maine, New England, unique light decor overlooking a vibrant marina. Think of the freshest fish and locally sourced food, all served with a smile and you're getting there.
Martin Wishart
Martin Wishart has created a fine dining restaurant in Cameron House Hotel on Loch Lomond side, Awarded a Michelin Star in October 2011 and can be found in the 2013 Good Food Guide.
Described by Homes and Interiors Scotland as 'grand and theatrical', Wisharts is open for lunch and dinner on Saturday and Sunday, and dinner only from Wednesday to Friday. When dining becomes an art you need the preparation and time.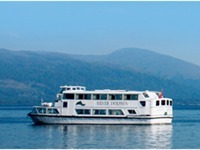 Boat Trips
Described by many as Queen of Scottish Lochs and 'Gateway to the Highlands', Loch Lomond measures 23 miles long and five miles wide, making it the single largest expanse of fresh water in Great Britain.
Over 200 metres in depth, it's also Scotland's third deepest Loch. But it's what happens on and around the water that perhaps makes the Loch most special.
Wildlife, a mysterious floating island, stately homes, ruins - Loch Lomond has them all in abundance, all just waiting to be explored.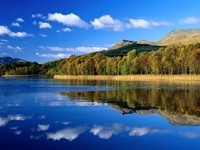 Clyde Cruises to the islands of Inchmurrin and Inchcailloch
Clyde Cruises' Island Discovery Cruise sails from Loch Lomond Shores to Inchmurrin and Inchcailloch. Hop off to explore the islands or simply relax onboard and enjoy the cruise. If you wish to visit Inchmurrin your ticket includes morning coffee and a delicious home baked scone for the morning stop or a tasty soup and sandwich for the lunchtime stop all served in the Inchmurrin Hotel overlooking the loch.
http://www.clydecruises.com/clydecruises/loch-lomond-island-explorer/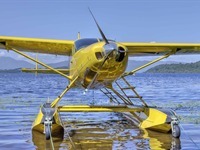 Seaplane Flights
It's an intoxicating cocktail: exploring the magnificent Scottish West Coast by seaplane – take a time-out on one of the World's great journeys. Fly in an iconic seaplane back to the halcyon days of travel with a First Class window seat over the most magnificent landscape in the World.
Loch Lomond Seaplanes is the UK's only seaplane airline and it is now in its 11th year of operation. Voted by the Scots as the country's top "must do" activity - it's a breathtaking travel experience.
This is a high quality, luxury experience - whether you're looking for a seaplane experience, an amazing scenic tour of the magnificent Scottish landscape or both, this flight guarantees memories for life.
Our highly experienced pilot's have flown seaplanes in locations all over the world such as Thailand, Indonesia, Alaska, Dubai, Vancouver and the Maldives and all believe that there is nowhere that can offer such a breathtaking experience as the Highlands and Islands of Scotland.
http://www.lochlomondseaplanes.com/title-home/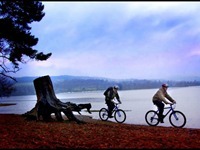 Mountain Bike Hire and Adventure Experiences
Can You Experience provides a variety of land and water based outdoor activities to suit all ages and abilities on and around Loch Lomond... for a chance to view a wallaby, enjoy a picnic on a secluded island beach or hike to a Loch Lomond island summit for tremendous views – try our unique Island Hopping Canoe Safari. Perhaps you're a thrill seeker? – if so, you'd love our 1.5 hour Loch Lomond exhilarating rib boat ride! Or maybe you are always looking for something new – come along and experience the sheer thrill of our segway safaris.